I am constantly looking for new DeFi investment opportunities, especially since a few platforms have recently closed.
One project that has been stirring excitement lately and gaining attention is Summit Ventures which is another bot-trading, profit-sharing platform. This platform introduces a fresh perspective on investment opportunities, providing an avenue for passive income and has already been paying out for six months!
Gone are the days of locking away your funds indefinitely – Summit Ventures brings us a 60-day lock-up period with an early withdrawal option, giving the investor the reins of control.
Some other standout features they have included are eliminating any wealth barriers by removing minimum and maximum investment thresholds. And you can deposit and withdraw at any time.
They also recently had their first major update to the site where they optimized the graphics, user interface and added a team page. They have an official company registration and their CEO is doxxed.
They also recently announced that they will launch a series of AMAs where they will answer the most asked questions.
Let's take a closer look…
A New Era of DeFi Investment
Let's kick things off with a quick rundown of what makes Summit Ventures a competitive dapp in the DeFi landscape. Imagine an investment platform that not only offers passive income, but also adapts to your lifestyle, providing the flexibility you've been looking for: Summit Ventures prides itself as the pioneer of a web3 application that introduces an institutional-grade algorithm to its investors. And that's not just about fancy jargon. This proprietary AI algorithm is the secret sauce that fuels the platform's incredible trading performance. But what truly caught my attention is the user-first approach that Summit Ventures embodies. Here's what I enjoy the most:
The Summit Ventures Experience in a Nutshell
Passive Income, Active Lifestyle: Summit Ventures changes the mold of traditional investments by offering passive income; no need to lock up your funds for extended periods – their 60-day lock-up period with an early withdrawal option ensures that you're in control.
Universal Accessibility: There are no minimum or maximum investment thresholds. Whether you're just stepping into the world of DeFi or you're an experienced investor, the platform caters to all.
Anytime Deposits & Withdrawals: The freedom to deposit and withdraw anytime is great. While liquidity provisioning happens during weekends, your capital isn't held hostage during the week – it's actively utilized for trading.
Raising the Bar
Summit Ventures offers some good reasons to make it a preferable choice for anyone looking to bolster their crypto portfolio.
Reliability
While nothing in DeFi is guaranteed, by harnessing the power of AI, the team have eliminated the room for human error, making decision-making more robust and dependable.
Transparent and Low Fees
They have an incredibly competitive fee structure which includes a deposit fee of 1.5%.
Effortless Entry
Once you deposit, the platform takes over, putting your funds to work. All you need to do is sit back witness your portfolio bloom week by week.
Sustainable Growth
Summit Ventures' returns are backed by trading results and meticulously tested algorithms. Your gains are automatically compounded if you choose not to withdraw, ensuring steady growth over time.
The "How and When" of the Trading Bot
So, when does the Summit Ventures magic happen? The platform's AI-powered bot swings into action between Sunday 22:00 GMT and Friday 22:00 GMT. The yields you can expect typically ranging from 3% to 6% per week, with a standard deviation taken into account. It's important to note that these profits are rooted in Summit Ventures' current trading pool, which gets a boost from the smart contract balance every Sunday before the market opens.
Some Quick-Fire info:
Profits are auto-compounded if you don't take any action. Auto-compounding your profits does not lock your deposit, only new deposits reset the 60-day cooldown.
The investments are done in BUSD on the Binance Smart Chain.
If you withdraw before the 60-day window ends you pay a tax of 20%.
Deposits AND withdrawals are open 24/7. All funds are used for trading the weekdays, so it appears to be easier to withdraw on weekends.
When you approve and stake your deposit there will be a 1.5% deposit fee taxed from it.
The CEO of the company has been doxxed and is Celeste Fellman.
They have zero connection with Delta Ventures, just a similar name, and no affiliation with any other project currently out there.
They have promised an upcoming series of AMAs.
They have had 26 weeks of trading and paying investors.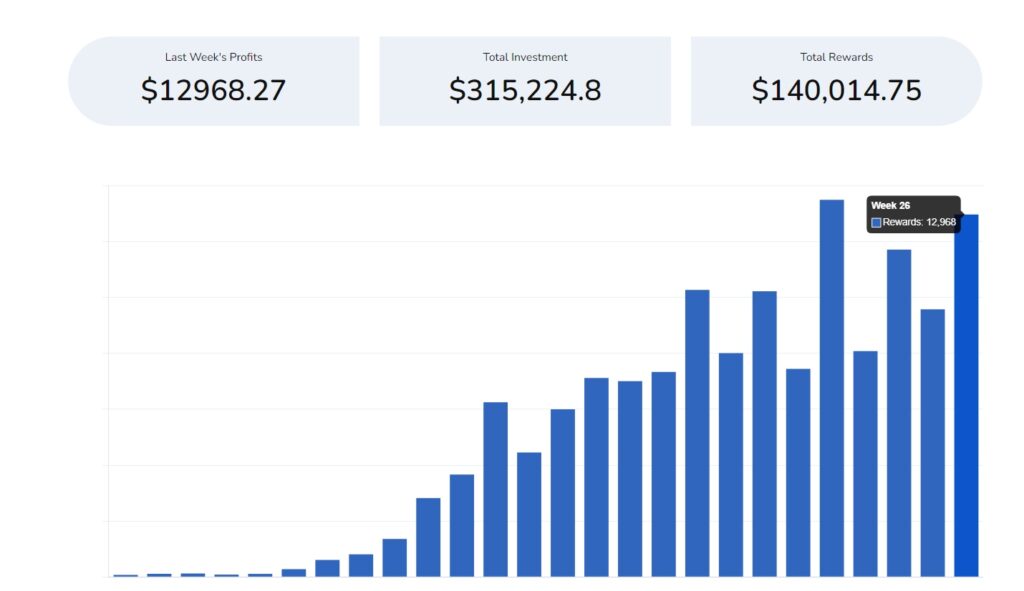 Above is a graph showing the payouts from week one, and here is the actual percentage gains for each week since they started:
Week 1 -> +1,85%
Week 2 -> +2,74%
Week 3 -> +2,90%
Week 4 -> +1,93%
Week 5 -> +2,46%
Week 6 -> +4,73%
Week 7 -> +5,47%
Week 8 -> +4,75%
Week 9 -> +4,10%
Week 10 -> +5,12%
Week 11 -> +4,69%
Week 12 -> +5,32
Week 13 -> +3,35%
Week 14 -> +4,71%
Week 15 -> +4,52%
Week 16 -> +3,90%
Week 17 -> +3,79%
Week 18 -> +5,08%
Week 19 -> +3,64%
Week 20 -> +4,43%
Week 21 -> +3,06%
Week 22 -> +5,37%
Week 23 -> +3,05%
Week 24 -> +4,25%
Week 25 -> +3,32%
Week 26 -> +4,34%
How to Invest
Go to the dapp website.
First you will need to approve you wallet. So click the "approve" button and confirm it in your wallet.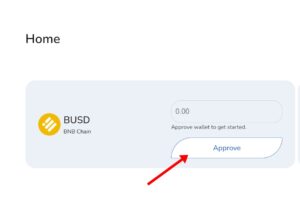 Now, in your wallet dropdown, enter the maximum amount that you'd like to invest into the contract.

Now enter that figure into the dapp and click "Stake".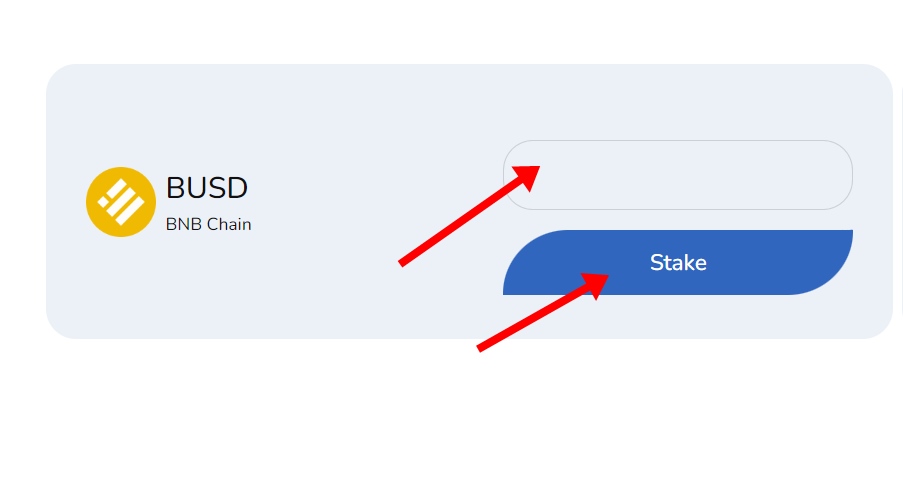 Now you have successfully invested into the platform and your deposit will be displayed, less the 1.5% fee.
Continual Improvements
The Summit Ventures team of expert developers has been hard at work incorporating new advanced tools and techniques into their trading algorithm. These improvements not only optimize the algorithm's performance, but also provide it with a competitive edge in the fast-paced currency markets.
The following is an excerpt from the team's latest announcements:
Two significant enhancements we have implemented early on were the integration of machine learning capabilities and the implementation of Artificial Intelligence technologies. By leveraging vast amounts of historical currency data, our algorithm can recognize and adapt to evolving market patterns and trends more effectively. This empowers the Summit Ventures algorithm to make more intelligent trading decisions and achieve higher returns on investment.
Implementing AI has revolutionized our algorithm's predictive capabilities. By utilizing complex algorithms and neural networks, our system can analyze a plethora of data points in real-time, identifying subtle signals and indicators that were once imperceptible. This has substantially improved our algorithm's accuracy and ability to capitalize on emerging opportunities swiftly.
So we are happy to announce that we have made a significant update to our NLP system which should greatly improve the understanding of the speeches of central bankers and speeches of people affiliated to central banks and rate decisions. 
A Natural language processing (NLP) algorithms job is it to extract valuable insights from speeches, news articles, press releases, and social media sentiment related to the currency/ commodity/ equity markets. By comprehending market sentiment and macroeconomic factors, our algorithm is better equipped to forecast market movements and make timely trading decisions.
As a result we are going to be allocating this strategy a very small amount of capital and we will increase it over time. If everything works correctly we will likely see an slow increase in profits in the future.
While we remain cautious and continue to conduct extensive backtesting and real-time trials, we are confident in the algorithm's capabilities and potential for success. Our experienced team of analysts and traders closely monitor its performance and make necessary adjustments to optimize results continually.
To Sum Up
In a world where DeFi platforms are aplenty, Summit Ventures truly stands out. Its commitment to transparency, accessibility, and consistent growth shows their commitment to the community.
I have already invested in this project, but as always: do your research and invest with wisdom.
Additional Things to Note:
You can join my Telegram group here or connect with me on Twitter here or follow me on YouTube here.
Follow me on Medium if you want to read more about cryptocurrency, passive income, play to earn games and yield farming.
I'm not a financial advisor. This is not a financial advice, whatever you read in my articles are strictly for educational purposes.
This has been a sponsored post.
This article contains affiliate links.
These defi projects are all high risk and high reward, only use risk capital and be careful.