Three weeks ago I published an article about making my first deposit into Summit Ventures and I want to give an update on how that is going.
Before I do that I'll just give you a recap, or a quick overview for those who missed that initial article: Summit Ventures offers investors AI trading profits, with great returns on your initial investment, and has minimal fees (1.5%) on your deposit.
As I mentioned, I made my first deposit three weeks ago and have been paid out on three profit days. After deducting the 1.5% deposit fee I am up by a total of 11.7% which I find excellent!
The profits are allocated weekly and are automatically added to your initial deposit and compounded. If you want to claim your profit at any stage you'll need to go to the "Pools" page and submit your withdrawal. You cannot withdraw more than what is available in the pool at any given time; weekends are generally best for making withdrawals.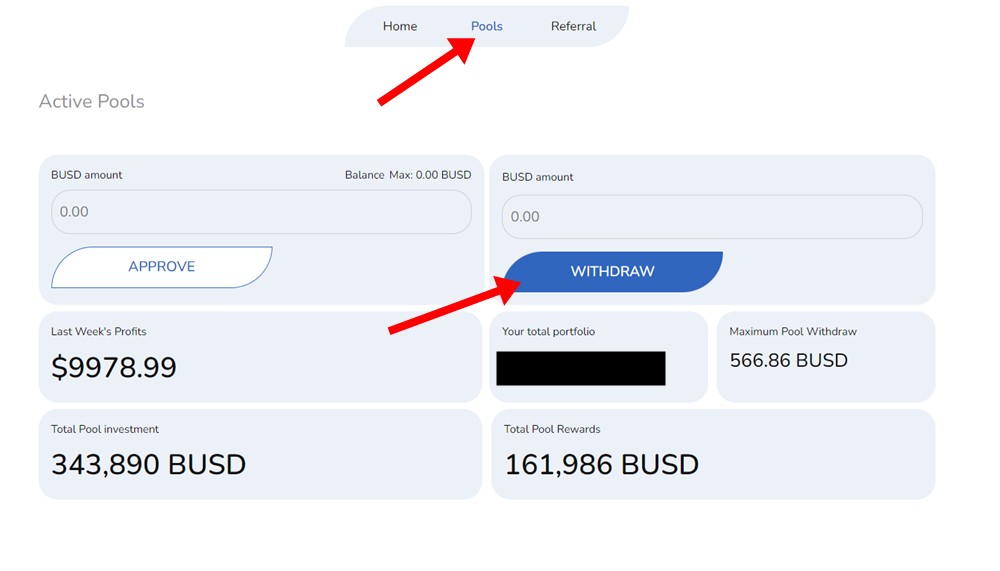 Additionally, an important factor to remember with withdrawing is that if you withdraw within the initial 60-day lockup period you will incur the 20% withdrawal fee.
******* Make sure to Follow me on Medium here and Subscribe to the YouTube Channel here. You can join my Telegram group here or connect with me on Twitter here . *******
In this article I'll go over the details of the platform and explore the exciting new developments and insights straight from the Summit Ventures team. You can access the Summit Ventures website here.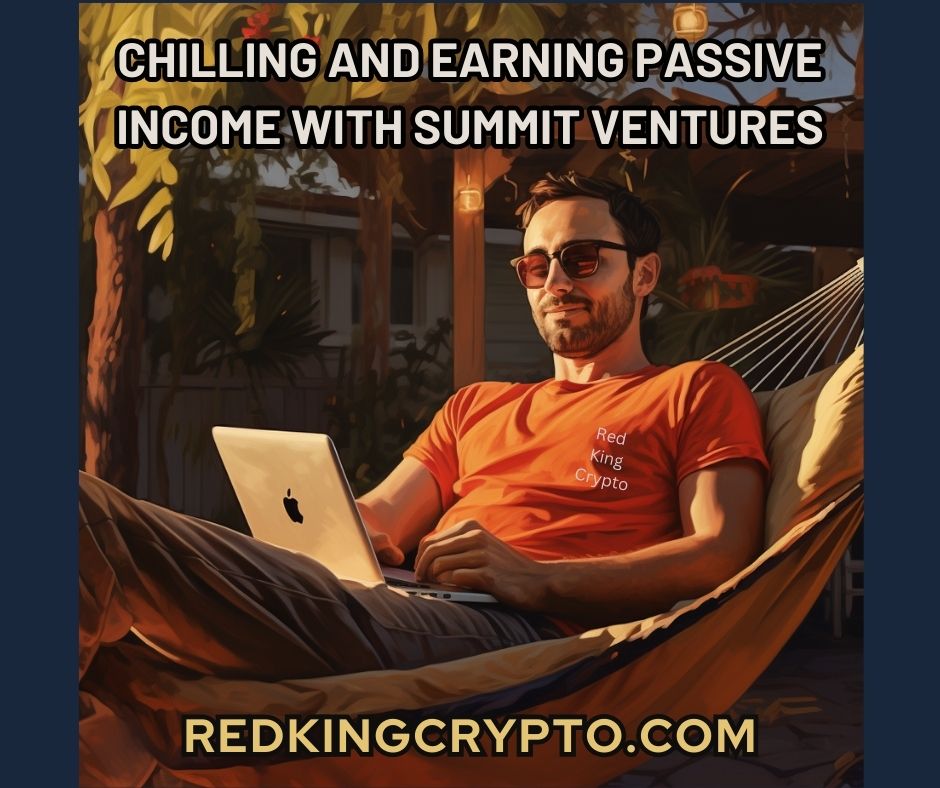 What Makes Summit Ventures Tick?
Just to refresh your memory, Summit Ventures is the DeFi gem that offers passive and flexible income through a proprietary AI algorithm. It's the first web3 application to offer an institutional-grade algorithm to its investors, and that's just the tip of the crypto iceberg.
The Core Strengths
Summit Ventures boasts a range of core strengths that set it apart from the competition:
Consistent Performance: While the DeFi market can be erratic and unexpected, Summit Ventures has figured out how to deliver constant performance. Their AI-driven method beats industry benchmarks while minimizing risk. Hundreds of short-term trades are conducted each week with the goal of maximizing gains and minimizing losses.
Reliability: In the ever-volatile crypto universe, reliability is crucial. In order to guarantee that all transactions are secure and effective, the platform is built on a dependable and secure infrastructure. AI makes decision-making more dependable by virtually eliminating the possibility of human error.
Fair Access: Traditionally, high-return TradFi strategies have been the privilege of the elite, with high entry barriers, expensive fees, lack of transparency, and limited access for retail investors. This project aims to change that by offering institutional-grade strategies to a broader audience.
Low Fees: When it comes to fees, Summit Ventures doesn't disappoint. They maintain an extremely competitive fee structure with rates below the market average. This means that whether you're just starting in crypto or you're a seasoned investor, Summit Ventures caters to everyone's financial goals.
Easy Start: It's all about convenience. Once you've made your deposit, the platform takes over, putting your funds to work. All you have to do is sit back and watch your portfolio grow, week by week. If you don't know how to set up or configure a MetaMask wallet I'll have the details at the end of this article.
Sustainability: This is not a get-rich-quick scheme. The returns are grounded in real results from live trading over the past two years. Gains are automatically compounded if you choose not to withdraw, ensuring steady growth over time.
Performance
In my last article I showed their performance and profits from the first 26 weeks. Here are their most recent stats from Week 29:

+3,84% profit
$13,052.43 profit
Current TVL: $353,324.20
This is looking healthy!
The Summit Ventures Team
The company is publicly registered in the United Kingdom and the CEO is doxxed and KYC'd.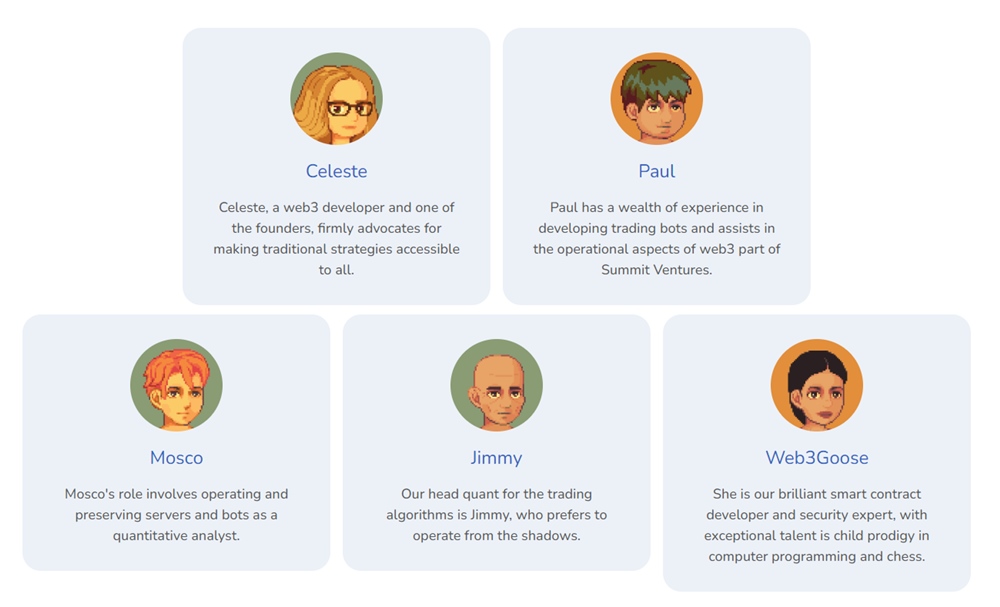 Here are some excerpts from their registration: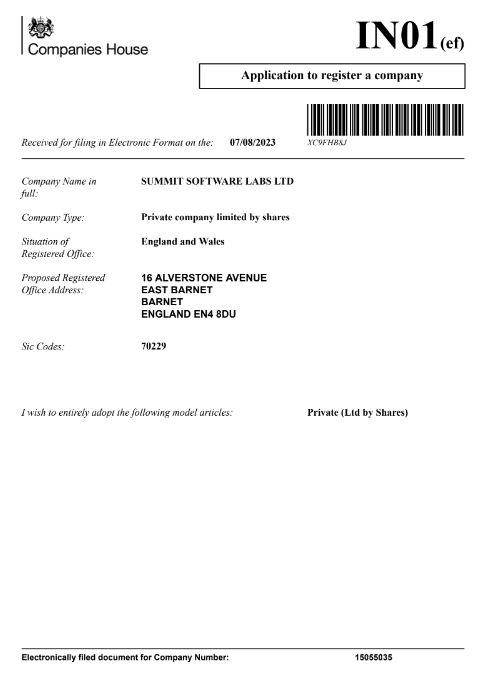 A Glimpse into the Future
Now, let's talk about what's cooking in the Summit Ventures kitchen. The team is dedicated to enhancing security for all investors.
For select influencers, Summit Ventures is even willing to provide additional Know Your Customer (KYC) information, demonstrating their commitment to transparency and security.
The move on-chain is on the horizon and last but not least, get ready for an upcoming Ask Me Anything (AMA) session. While they're still setting it up, the Summit Ventures team is working tirelessly to provide you with more insights into their project.
In Conclusion
With all the recent rugpulls and failed projects I am hopeful that Summit Ventures can continue its excellent performance, one that has been making profits for investors for the last 29 weeks.
Check out Summit Ventures here.
Until next time, may your trades be profitable and your investments secure!
Additional Things to Note:
You can join my Telegram group here or connect with me on Twitter here or follow me on YouTube here.
Follow me on Medium if you want to read more about cryptocurrency, passive income, play to earn games and yield farming.
I'm not a financial advisor. This is not a financial advice, whatever you read in my articles are strictly for educational purposes.
This article contains affiliate links.
These defi projects are all high risk and high reward, only use risk capital and be careful.
This has been a sponsored post.
Disclaimer: This is not financial advice, the information in this article is for educational purposes only. Never invest what you can't afford to lose. I disclaim any liability or loss incurred by any person who acts on the information, ideas, or strategies discussed in my articles. Do Your Own Research.
My Play-to-Earn NFT game, Kings of Red, is set to come out in 2023, join my Telegram group for more details.
Don't have Metamask? Here's how to set it up
The first thing you want to do is set up a Metamask wallet (if you haven't done so already). Just open a Chrome or Brave browser and go to metamask.io and click add Chrome extension.
Then you need to add the Binance Smart Chain to your Metamask Wallet.
Click Ethereum in your wallet, then scroll down to Add Network.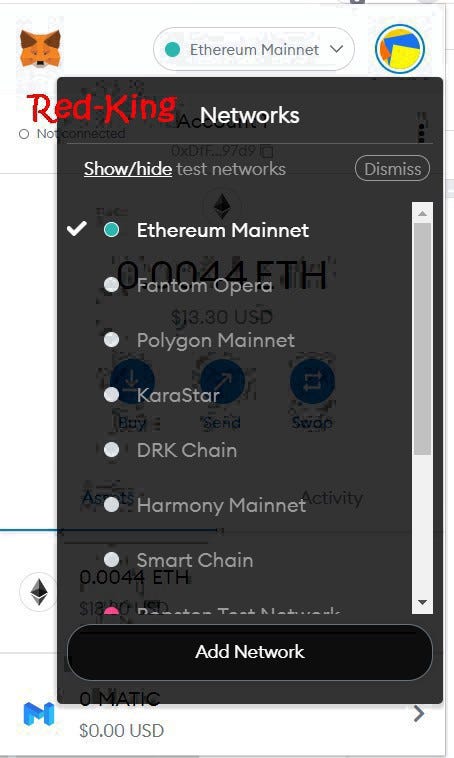 Click that and add the following details:
Network Name: Smart Chain
New RPC URL: https://bsc-dataseed.binance.org/
ChainID: 56
Symbol: BNB
Block Explorer URL: https://bscscan.com