Today I am happy to introduce a brand new addition to the world of DeFi – Purple.cx.
Purple.cx is on a mission to become the premier staking platform with guaranteed returns. This project is launching on 5 September 2023.
Founded by two business partners, Dave, a blockchain developer, and Justin, a financial expert, the Purple Crypto Network project is a testament to their passion for cryptocurrency and the global monetary system.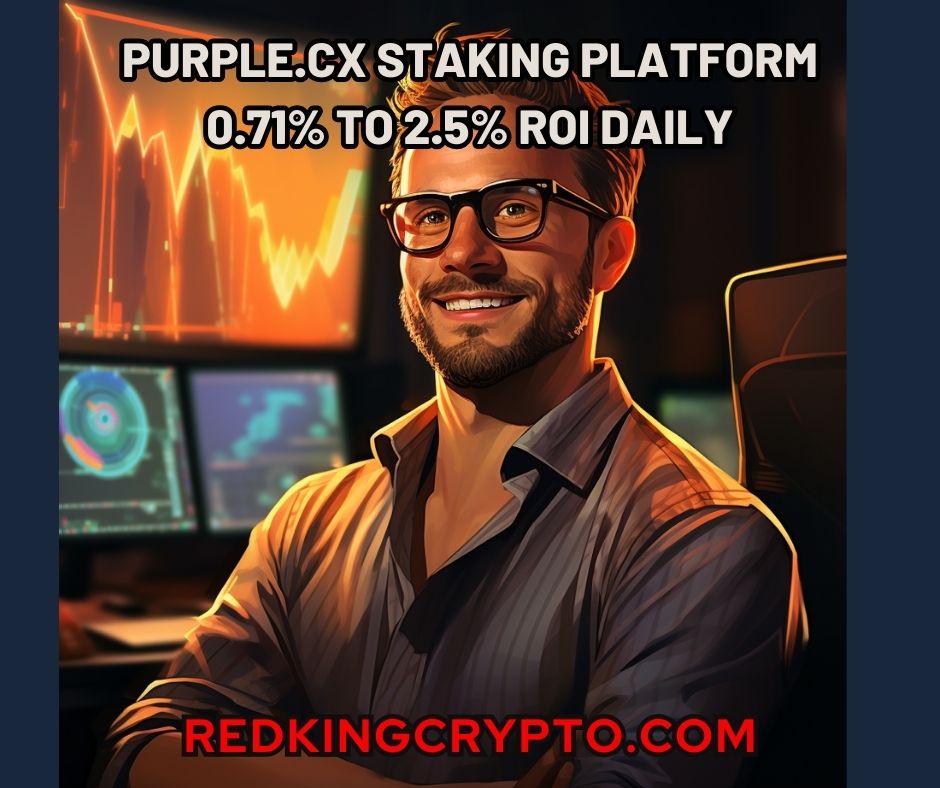 Now, let's delve into what makes Purple.cx a potential game-changer in the world of DeFi.
In a Nutshell: What You Can Expect from Purple.cx
Investment Platform: Purple.cx is an investment platform powered by a secured and verified smart contract on the Binance Smart Chain (BSC).
Daily Dividends: Investors on Purple.cx have the potential to earn daily dividends ranging from 0.71% to 2.5%, depending on their chosen plan. The smart contract ensures seamless and secure operations, allowing users to deposit and withdraw funds at their convenience.
Plan Variety: Purple.cx offers seven distinct plans, each with varying daily returns. The most lucrative of these is the Purple plan, with a term of 49 days, rewarding investors with PNCX tokens proportionate to their investment.
Decentralization: The team is firmly committed to decentralization, believing it to be the foundation of future financial transactions and the global monetary network. The platform is powered by an Ethereum Virtual Machine (EVM) smart contract, ensuring safety, reliability, and security.
Transparency: Transparency is paramount in the world of DeFi, and Purple.cx leaves no room for doubt. All funds are stored on the blockchain, transactions are publicly verifiable, and the smart contract has undergone auditing and verification to guarantee safety.
Future Integration: Purple.cx is set to integrate seamlessly into the Purple Defi Yield platform (PNCX), scheduled to launch in November 2023.
What Makes Purple.cx Stand Out
Now that we've covered the fundamentals, let's delve into what sets Purple.cx apart from the crowd:
1. Hassle-Free Start
Getting started with Purple.cx is a breeze – no lengthy registration processes. Simply download the Metamask wallet on your browser or mobile phone, ensuring it's connected to the BSC Chain network. (if you don't know how to do this, scroll to the bottom of the article for a guide).
2. Automated Dividends
Thanks to the smart contract, every aspect of the Purple.cx experience is automated. You can effortlessly cash out your dividends at any time, and the process is seamless. You invest in BNB tokens and you also receive BNB tokens when you withdraw.
3. Reinvestment Bonus
Purple.cx sweetens the deal with a reinvestment option. Reinvesting automatically creates a new Purple plan investment for you and grants you a 10% bonus on your reinvested dividends. For example, if you reinvest 2 BNB tokens, your new investment will be 2.2 BNB tokens.
Purple.cx's Investment Plans
There are seven plans on Purple.cx and each plan has its own daily returns. You can invest multiple times and in different plans all at once.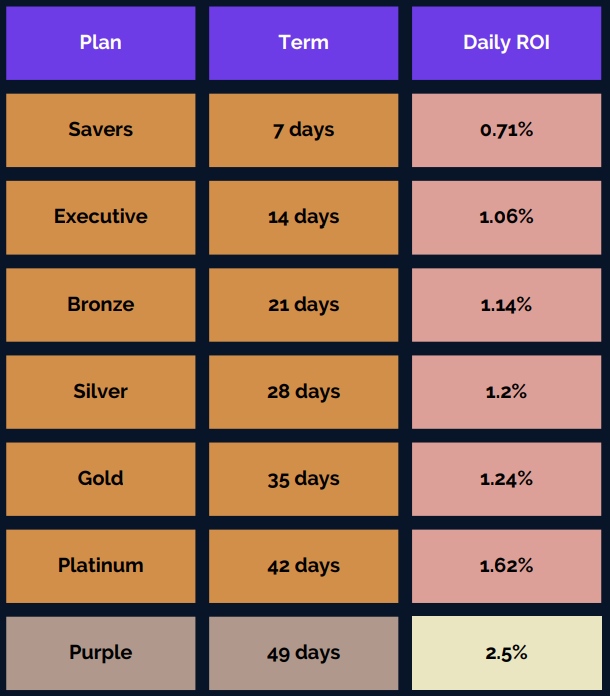 Key Figures and Fees
Currency: BNB on Binance Smart Chain
Minimal investment is 0.1 BNB (No Maximum)
Daily Reward 0.71% to 2.5%, depending on your chosen plan
Deposit Fee:  5%
Withdrawal Fee:  5%
Compound Fee:  Zero fees PLUS you get a 10% bonus for compounding.
Fees derived from the project are invested into crypto trading and profits are re-invested into the project vault. Purple.cx will be integrated into Purple Defi Yield platform [PNCX] which is set to launch In November 2023.
How to Get Started with Investing
Go to the dapp here and connect your wallet.
2. Click on the "Invest Button" and then choose your investment plan from the drop-down menu.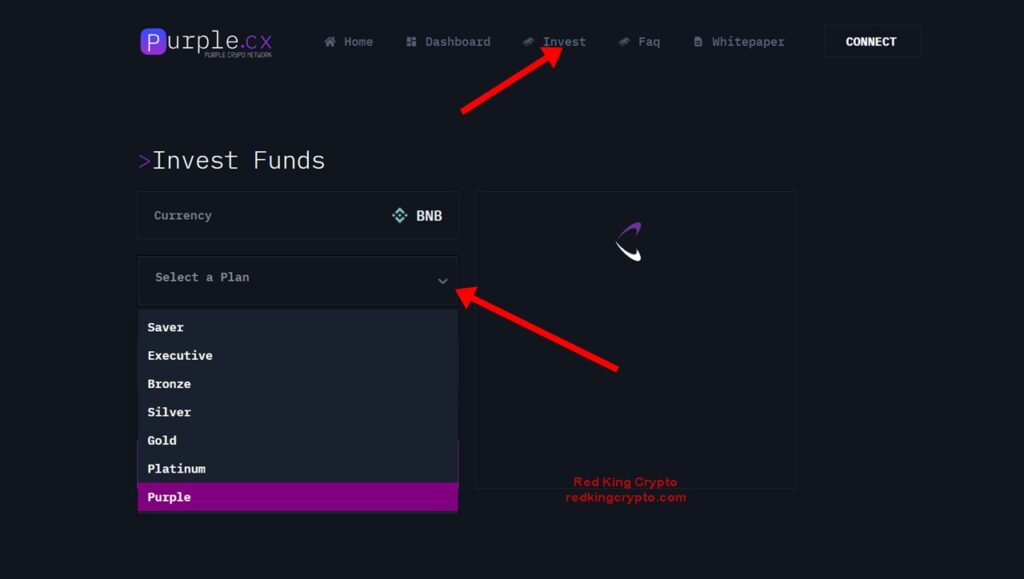 3. After that you will enter how much you'd like to invest (in BNB) and then click the "Deposit" button.
On the right it will show you the details of your investment including your Plan, Duration of your investment, your ROI percentage, your Daily Earnings and your Profit.
It's a really tidy and useful summary.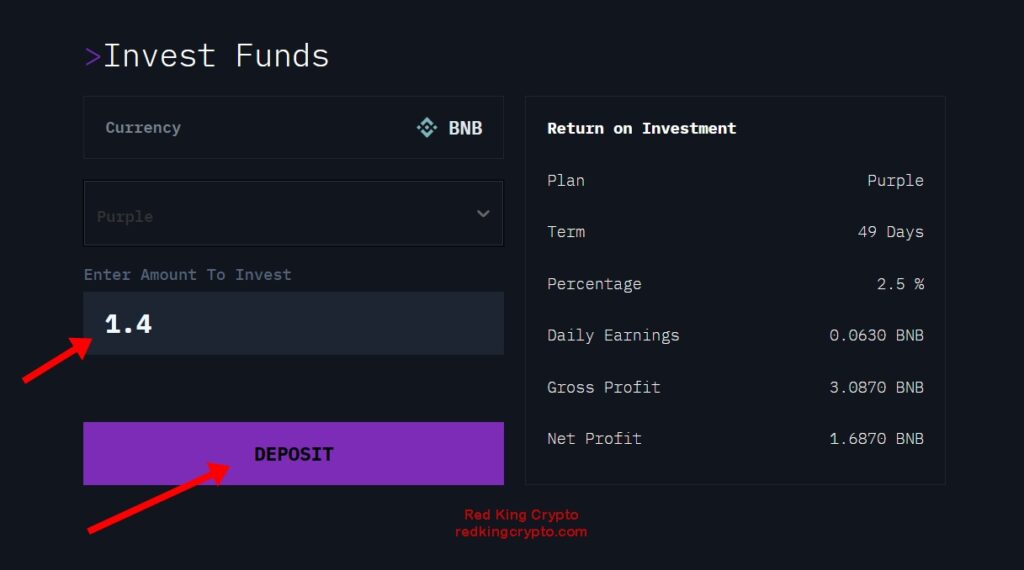 In a world where DeFi options are aplenty, Purple.cx emerges as a compelling choice. Its commitment to accessibility, transparency, and decentralized finance aligns harmoniously with the ethos of the Red King Crypto community.
Stay tuned to Red King Crypto for more insights into the ever-evolving world of crypto and DeFi. The future is decentralized, and it's brimming with exciting possibilities.
Until next time, keep your crypto dreams alive and your investments secure!
FAQs about Purple.cx
Who can join and invest in Purple?
Everyone can join Purple, but one must not be less than 18 years old.
Do I need to register to get started?
No, there is no need to register or open an account. Just download the Metamask wallet, connect to the BSC network, and then connect your wallet to Purple.
How do I invest my BNB tokens?
Investing is straightforward. Go to the invest screen, connect your Metamask wallet, and select the plan you wish to invest in. The minimum investment is 0.10 BNB.
Which currencies can I invest with?
The smart contract only accepts BNB BEP20 Tokens.
Can I withdraw anytime?
Yes, earnings can be withdrawn at any time.
Can I reinvest my earnings?
Yes, earnings can be reinvested to maximize return on investment. The minimum earnings required for reinvestment are 0.25 BNB, creating a new PURPLE plan with a 10% bonus.
Do you have any affiliate program?
Yes, there is an affiliate program with three levels: 5% from the deposits of your referrals.
My referral made their deposit, but I haven't received any referral commission. Why?
You will need at least one deposit in order to obtain referral commission.
Additional Things to Note:
You can join my Telegram group here or connect with me on Twitter here or follow me on YouTube here.
Follow me on Medium if you want to read more about cryptocurrency, passive income, play to earn games and yield farming.
I'm not a financial advisor. This is not a financial advice, whatever you read in my articles are strictly for educational purposes.
This article contains affiliate links.
These defi projects are all high risk and high reward, only use risk capital and be careful.
This has been a sponsored post.
Disclaimer: This is not financial advice, the information in this article is for educational purposes only. Never invest what you can't afford to lose. I disclaim any liability or loss incurred by any person who acts on the information, ideas, or strategies discussed in my articles. Do Your Own Research.
Don't have Metamask? Here's how to set it up
The first thing you want to do is set up a Metamask wallet (if you haven't done so already). Just open a Chrome or Brave browser and go to metamask.io and click add Chrome extension.
Then you need to add the Binance Smart Chain to your Metamask Wallet.
Click Ethereum in your wallet, then scroll down to Add Network.
Click that and add the following details:
Network Name: Smart Chain
New RPC URL: https://bsc-dataseed.binance.org/
ChainID: 56
Symbol: BNB
Block Explorer URL: https://bscscan.com