With this tool, you can analyze the Whales's transactions, copy their trades, and earn more with the AI Trackers features.
The presale ends 14 April 2023, 3pm. Go here to access the presale.
It has been audited by Certik. You will need BNB for the presale and can connect via Metmask on the Binance Smart Chain. You will purchasing the Trackers Token (TRT) in the presale. There doesn't seem to be a minimum buy amount.
Here are some details…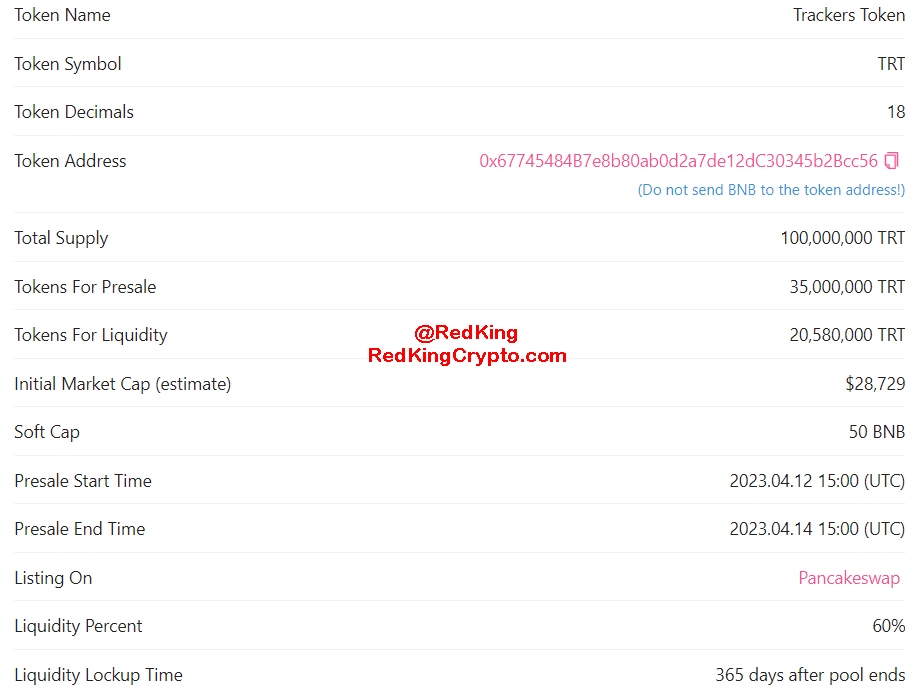 Ai Trackers aims to provide users with a comprehensive suite of DeFi tools and services.
At its core it is a platform designed to help users manage their DeFi investments and strategies. One of the key features is its portfolio tracking tool. This tool allows users to monitor the performance of Whales' DeFi investments in real-time, giving you a clear and accurate picture of how their assets are performing. Users can track the performance of individual assets, as well as their overall portfolio, and can use this information to make informed investment decisions.
In addition to these tools it also offers an automated trading feature. This feature allows users to create custom trading strategies that can be executed automatically, based on predefined rules and conditions. This can be a powerful tool for experienced traders who want to automate their trading strategies and take advantage of market opportunities more quickly.
As always this is not financial advice, but it is time-sensitive.
Additional Things to Note:
You can join my Telegram group here or connect with me on Twitter here.
Follow me on Medium if you want to read more about cryptocurrency, passive income, play to earn games and yield farming.
I'm not a financial advisor. This is not a financial advice, whatever you read in my articles are strictly for educational purposes.
These defi projects are all high risk and high reward, only use risk capital and be careful.
Disclaimer: This is not financial advice, the information in this article is for educational purposes only. Never invest what you can't afford to lose. I disclaim any liability or loss incurred by any person who acts on the information, ideas, or strategies discussed in my articles. Do Your Own Research.