Ethereum. It's a cryptocurrency that most investors love to hoard, but they generally hate working on the ETH chain because of the high gas fees.
TurboETH has solved that problem with an excellent platform that enables you to stake and earn on your Ethereum, but working on the Arbitrum network where the gas fees are minuscule. Over the last few weeks I have been playing/working on Arbitrum chain a lot and my gas fees tend to be between 9c and 40c; extremely low.
In TurboEth there are various staking options, hold bonuses and NFT airdrops! There is a lot to this platform so let's dive in…
Two Different Staking Plans
There are two different strategies from which to choose for your staking: there is locked staking and there is unlocked staking…
Unlocked Staking
When you stake in any of the unlocked plans you essentially give up your initial capital, but you can withdraw your earnings once a day. The minimum amount you can stake is 0.003 ETH which at the time of writing is around 6 USDT.
Below are the four different plans, and their reward structure.-, for unlocked staking. As an example I have inputted 0.5 ETH for each deposit and you can see what your rewards would be on that investment. So if you staked 0.5 ETH in the 26-day plan you should come out with a total of 1.56 ETH at the end of the lockup period. (as well as earning 6 NFTs – more on that later).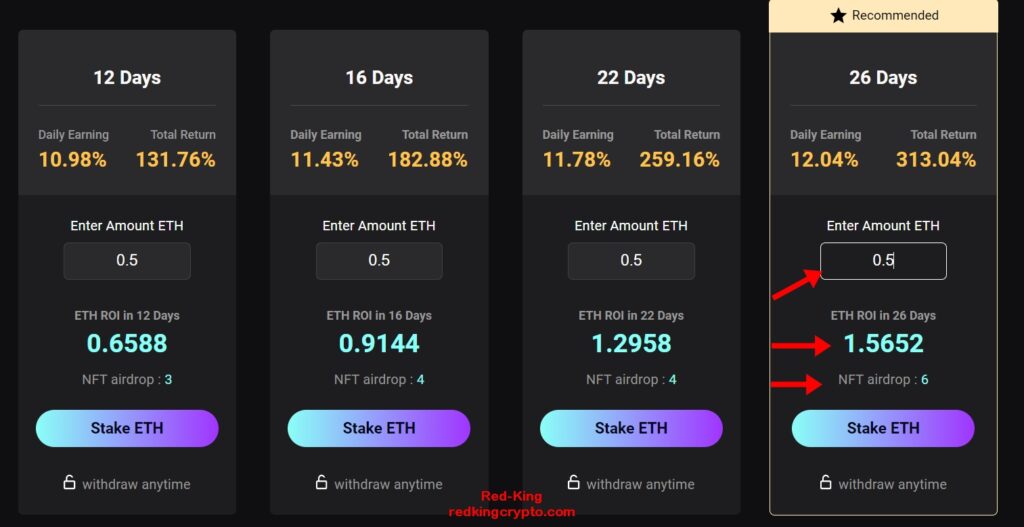 Locked Staking
The difference with the locked staking is that you won't be able to withdraw your daily earnings once per day, as in the unlocked plans, but you will be able to withdraw all your earnings at once at the end of the staking period. Because this is more of a high-risk option your total returns will be much higher compared to the unlocked plans. Personally I have invested in the locked plan.
Again, in the chart below, I have shown what your returns would be in each plan with an initial 0.5 ETH investment.
So now, in the 26-day plan, if you invest 0.5 ETH you would earn 2.73 ETH at the end of the staking period.
Reinvest Plan
'Reinvest' is a 5 days locked plan where you can get 35% daily interest.
Here's an example:
User 1 had invested 10 ETH in the 12 days locked plan and 17.28 ETH is available for withdrawal.
If the user chooses to reinvest that amount into the 5 days locked plan then he gets 35% daily interest.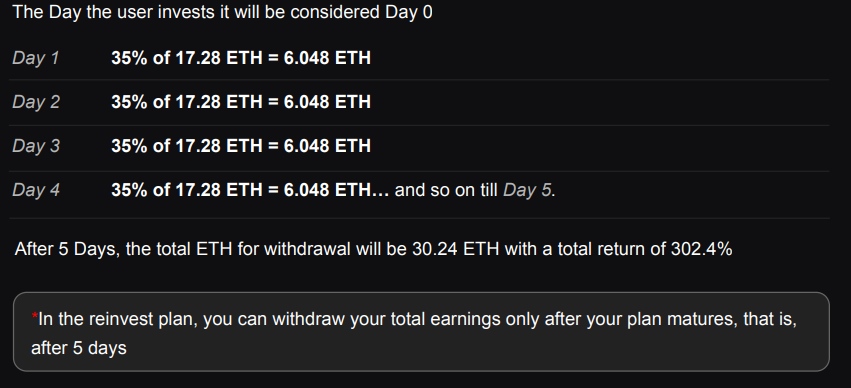 Hold Bonus
And lastly there is also a Hold Bonus feature which rewards unlocked stakers for not withdrawing their rewards every day.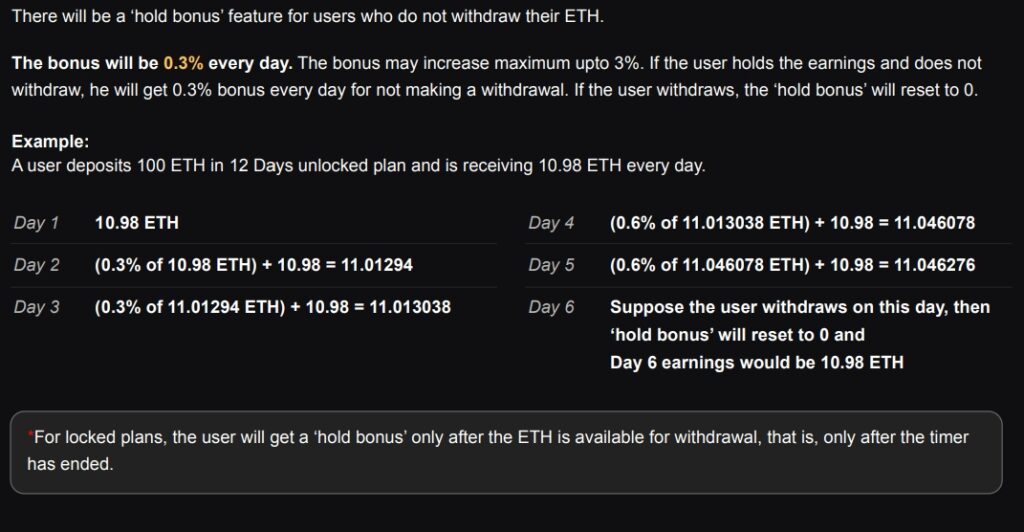 NFT airdrop
Along with your ETH rewards for staking, you also earn bonus NFTs. You can earn up to free 12 NFT airdrops from the Turbo ETH Collection. Have a look at the NFT airdrop chart. As an example if you invest 0.15 ETH in the 22-day plan for locked staking you will receive 5 free NFTs (as circled).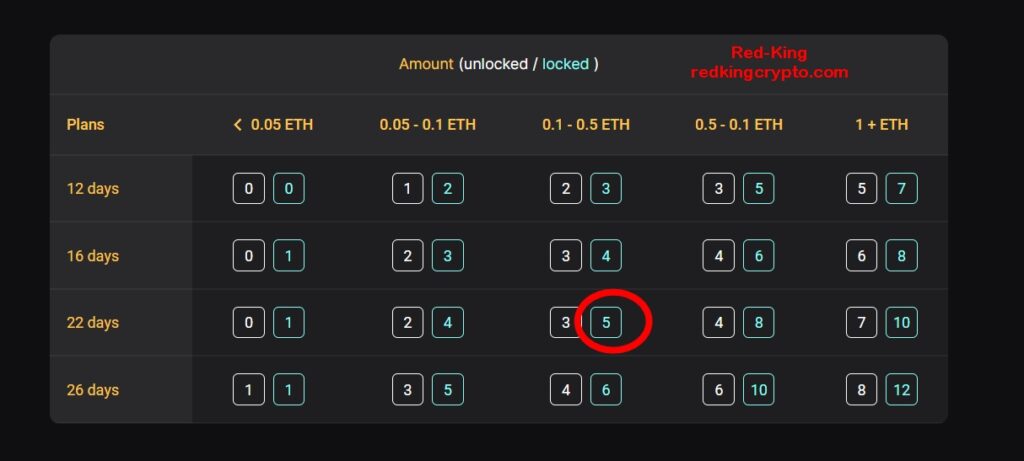 The TurboETH NFT collection will have a max supply of 10k NFTs and will airdropped ten days after staking. These NFTs are used as collectibles and don't have any direct utility to your staking. However, they can be resold on secondary markets such as Opensea.
Is it Safe to invest?
TurboETH has been audited by the Stamp and they confirmed that there are no vulnerabilities, backdoors, or scam scripts.
There is always a risk with DeFi investments, but no backdoors were found in the code.
Fees and Taxes
9% for deposits,
3% for withdrawals
6% for reinvestments, and some plans have a withdrawal option.
Conclusion
If you're looking for a low-fee platform to stake and earn Ethereum then TurboETH could be the place for you. As with any DeFi project do your own research and only invest risk capital.
As always this is not financial advice, just findings based on my research.
Additional Things to Note:
You can join my Telegram group here or connect with me on Twitter here.
Follow me on Medium if you want to read more about cryptocurrency, passive income, play to earn games and yield farming.
I'm not a financial advisor. This is not a financial advice, whatever you read in my articles are strictly for educational purposes.
These defi projects are all high risk and high reward, only use risk capital and be careful.
This has been a sponsored post.
Disclaimer: This is not financial advice, the information in this article is for educational purposes only. Never invest what you can't afford to lose. I disclaim any liability or loss incurred by any person who acts on the information, ideas, or strategies discussed in my articles. Do Your Own Research.