A token on the rise!
In recent years, blockchain technology has revolutionized the way we think about finance, and cryptocurrencies have emerged as a viable alternative to traditional investments. With the proliferation of cryptocurrencies, staking has become an increasingly popular way to earn rewards on one's digital assets.
TWTStake is a staking dapp that rewards investors who stake the TWT token on their platform. Later in this article I will take a deep dive into TWTStake and explore its features, benefits, and potential drawbacks.
But first I want to look at the actual Trust Wallet Token (TWT) and provide some info as to why you might want to invest in it.
Why TWT (Trust Wallet Token)
TWT is the native token of the Trust Wallet app. Trust Wallet was founded by Viktor Radchenko in 2017 and the platform was acquired by Binance in July 2018, but Radchenko still works on the platform as part of the Binance team.
TWT is a simple BEP-20 utility token that provides a range of benefits and incentives to Trust Wallet users. Trust Wallet itself is a mobile cryptocurrency wallet that supports dozens of popular native assets, in addition to popular tokens on the Ethereum, Binance and TRON blockchains.
Holders of TWT tokens unlock a variety of benefits when using Trust Wallet, including discounts on in-app cryptocurrency purchases and on the use of decentralized exchange (DEX) services. TWT holders can also participate in the governance of Trust Wallet and can vote on Trust Wallet update proposals, helping to shape the development of the app.
At the time of writing this article Trust Wallet Token price is $1.27 USD with a 24-hour trading volume of $38,640,974 USD.  The current CoinMarketCap ranking is #87, with a live market cap of $530,701,102 USD. 
You can see the healthy looking chart below of the lifetime of the TWT price, always gradually increasing in the long-term. It reached an all-time-high price of $2.72 last year.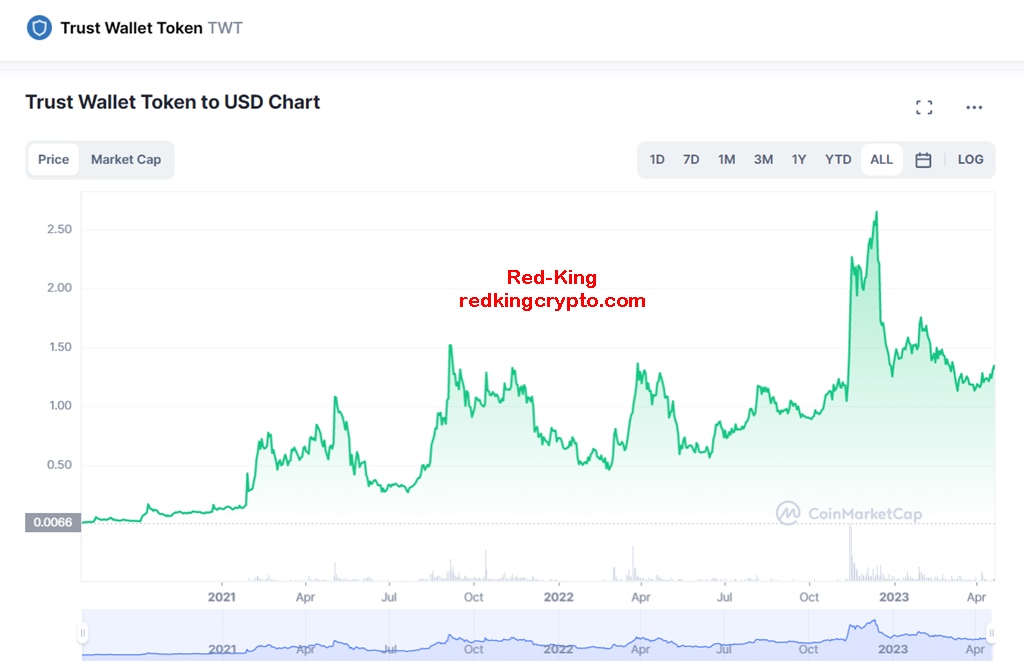 What is TWT Stake?
TWTStake is a staking dapp that allows investors to earn rewards by staking their TWT tokens.
TWTStake rewards investors who stake their TWT tokens on the platform. The rewards are distributed to stakers on a daily basis, and the amount of rewards earned depends on the amount of TWT staked and the duration of the stake. I've noticed that the rewards are in real-time and you can see them increasing by the hour.
How to Stake TWT and start earning Passive Income
By providing a user-friendly platform for staking TWT, TWTStake aims to promote wider adoption of the token and contribute to the growth and development of the Trust Wallet and BNB Smart Chain communities.
First you need to acquire your TWT tokens. There are a few places to buy or swap your tokens. These days I prefer to use Gate and Biswap for my crypto swaps. For these tokens I used BiSwap as their fees are so low, they're almost non-existent.

If you also want to do it that way you will need to go to the Biswap site, and connect to your wallet (I use Metamask on the Binance Smart Chain).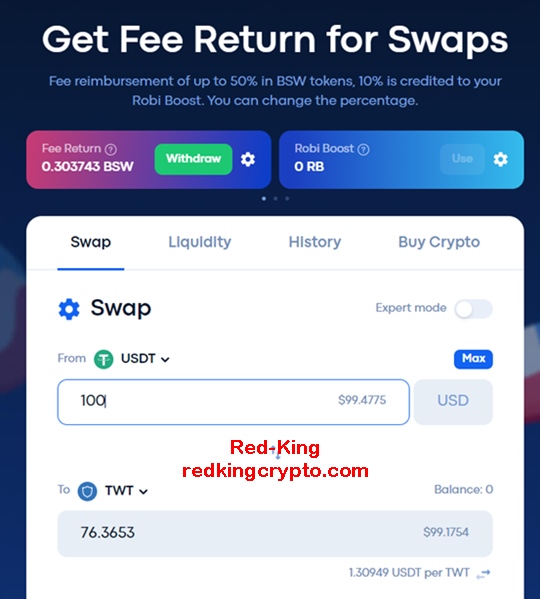 At the time of writing I could get 76 TWT for $100.
2. Once you have your TWT tokens you go the TWTStake website and click the "Stake" button.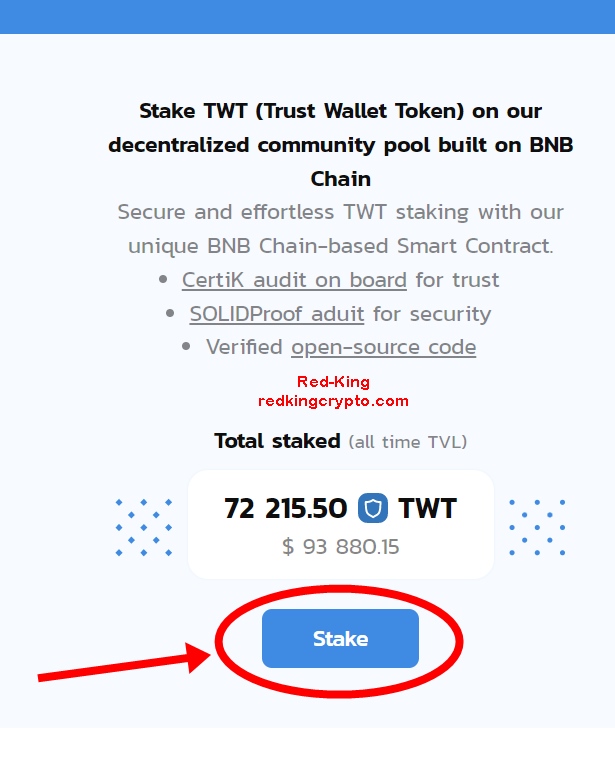 3. Now you can choose your staking preference. You can get 1% daily forever, or you can get a higher APY, but then your staking rewards come to an end sooner. These are the four current options: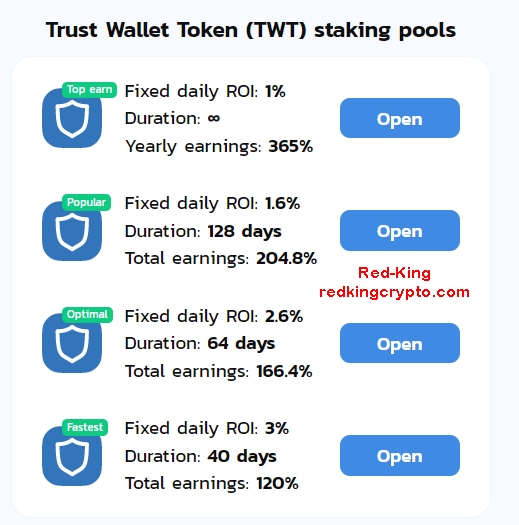 Personally, I went for the 64-day stake, to earn 166.4%, for my first stake. I am still deciding what to do for my next stake, I might go for the daily 1%.
The staking process is a two-step effort, first you need to approve (and confirm in your wallet) and then stake your tokens.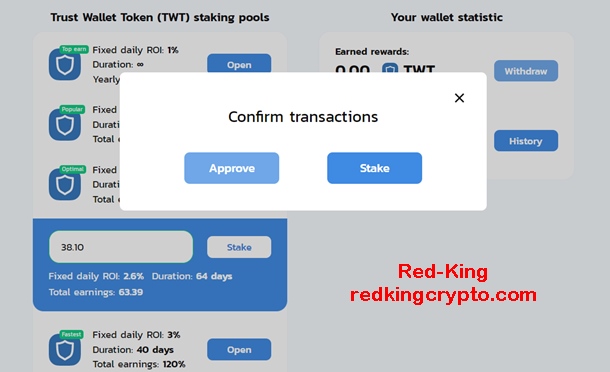 And that's it! You will see your "Earned rewards" starting to grow very soon. I saw mine start accumulating within the first hour of staking.
For me this a longer-term play than some of the crazy miners and staking platforms around in defi at the moment. By encouraging users to deposit their TWT tokens in a pool, it increases the demand and value of TWT. This approach benefits both TWT token holders and the overall TWT ecosystem, as it incentivizes long-term investment and strengthens the token's market position.
Obviously we can't predict what will happen with the token price, but I believe it is primed to grow and if the token is worth more when my staking period ends that will just add to my profits. It's important to note that you don't receive your initial stake back, just the returned rewards which will be more tokens than you initially deposited.
The healthier the TVL the better for all investors. Obviously if the contract ever hits zero then the payouts would stop. As you can see from the TVL chart below, it has been on very healthy uptrend since its inception.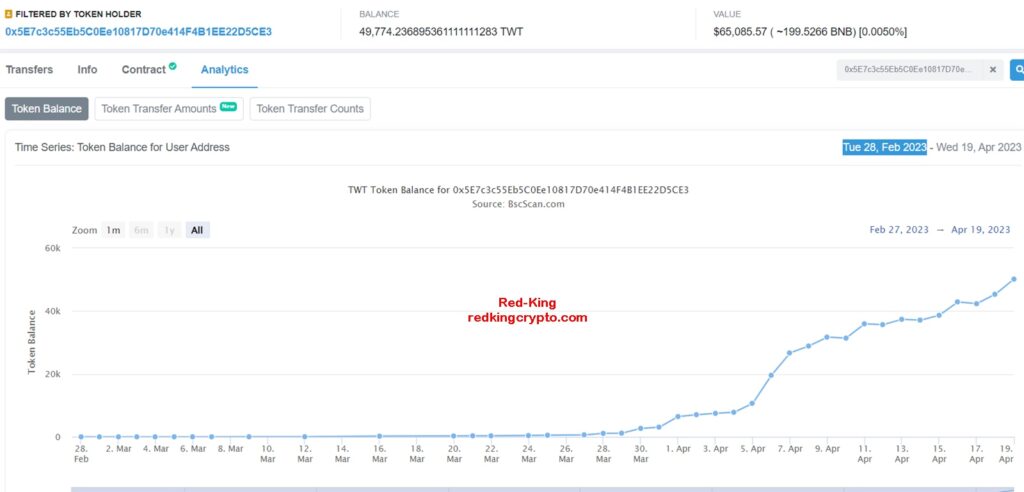 What's Next for TWTStake?
TWTStake has a clear roadmap for development and expansion, including the following milestones:
Q2 2023: Launch of TWT yield farming protocol, Airdrop program, community development, and marketing campaign.
Q3 2023: Launch of TWTStake's token, integration with major DeFi protocols and exchanges, and marketing campaign.
Q4 2023: Launch of TWTStake governance system and community voting.
Is it Safe to Invest?
The land of Defi is a risky one, but TWTStake has done their part to address investors' potential fears. They have been audited by both Certik and Solidproof. There are links to both audits on their homepage.
Conclusion
The platform's low staking minimum and user-friendly interface make it accessible to all users, regardless of their level of experience. This could be a good play and hopefully the token price will get stronger while we stake our TWT.
As always this is not financial advice, just findings based on my research.
Additional Things to Note:
You can join my Telegram group here or connect with me on Twitter here.
Follow me on Medium if you want to read more about cryptocurrency, passive income, play to earn games and yield farming.
I'm not a financial advisor. This is not a financial advice, whatever you read in my articles are strictly for educational purposes.
These defi projects are all high risk and high reward, only use risk capital and be careful.
This has been a sponsored post.
Disclaimer: This is not financial advice, the information in this article is for educational purposes only. Never invest what you can't afford to lose. I disclaim any liability or loss incurred by any person who acts on the information, ideas, or strategies discussed in my articles. Do Your Own Research.