2.5% daily with an Insurance Fund and Anti-Whale Protection
A while ago I wrote about a platform that proved to be quite popular; it was TrueFund. They accumulated quite a loyal following and many people were happy with the project.
The project ended when it ran out of funds and they are now about to launch Version 2 on 11 September.
Basically TrueFund is a smart-contract-based ROI (Return On Investment) DApp that aims to multiply your investments.
A Quick Overview of TrueFund
Before we dive into the details, let's have a quick peek at what TrueFund brings to the table:
Currency: Tether (USDT) on the Binance Smart Chain (BSC).
Minimal Investment: A mere 1 USDT.
Daily Reward: A steady and fixed 2.5%.
Anti-Whale Protection: A 72-hour Cut-Off timer to maintain fairness.
No Time Locks: Start earning immediately.
No Plan Limitations: Deposit once and keep earning indefinitely.
Referral System: An enticing 3% / 2% / 1% of your referral's deposit amount.
Security Audit: A comprehensive audit ensuring safety and reliability.
AND, something that many investors are happy about, the owners have zero access to the TVL.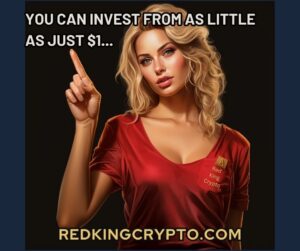 Now, let's dive deeper into what TrueFund is all about and what sets it apart.
Understanding the TrueFund Ecosystem
Smart Contracts that Build Trust
At the heart of TrueFund lies its smart contract, a special program stored on a blockchain. Once deployed, a smart contract can't be tampered with, ensuring trust and transparency. TrueFund's open-source smart contract allows users to scrutinize its code, leaving no room for shady functions or unfair practices.
The Basics of the ROI DApp
Investors deposit any amount into TrueFund and start earning a consistent 2.5% of their investment every day. As days pass, the initial investment is gradually returned, and from there on, it's pure profit. The potential for profit is limitless, allowing users to double or even triple their initial investment by claiming their 2.5% daily reward. It's akin to traditional banking, but smarter, more equitable, and more generous.
Little Extras to Help You
The smart contract handles all financial operations securely. The user-friendly website and community interaction on platforms like Telegram provide a visual interface and communications. This hybrid approach makes TrueFund accessible even to those who are new to the world of crypto.
The Financial Model
Here is a complete flowchart of how TrueFund works…

Unveiling TrueFund's Unique Features
The Locked TVL brings an Element of Trust
We have seen so many rugulls lately where owners or devs simply freeze the contract and drain the funds. TrueFund's locked TVL ensures that platform owners have no access to the contract balance. This verified contract guarantees transparency and security.
Predictable Rewards
A fixed 2.5% daily reward and the Cut-Off timer mechanism make TrueFund's behavior predictable and easy to calculate.
Automated Insurance
TrueFund employs an automated insurance mechanism through a separate contract with its own balance. It automatically balances the project by compensating rapid withdrawals, ensuring healthy growth, and protecting against manipulative actions.
Referral System for Additional Earning
TrueFund offers a 3-level referral system, allowing users to earn passive income by inviting others to join the project. When your referrals make a deposit, you receive a referral reward, creating a win-win situation.
The Lottery Adds Excitement and Revenue
TrueFund introduces a lottery feature that not only adds excitement but also serves as a source of external revenue for the project. Users have the chance to win substantial prizes, making their TrueFund experience even more rewarding.
How to Get Started
Go to the website here.
Connect Your Wallet ensuring it's connected to the BSC Chain network. (if you don't know how to do this, scroll to the bottom of the article for a guide).
Make your first deposit and you will immediately start earning.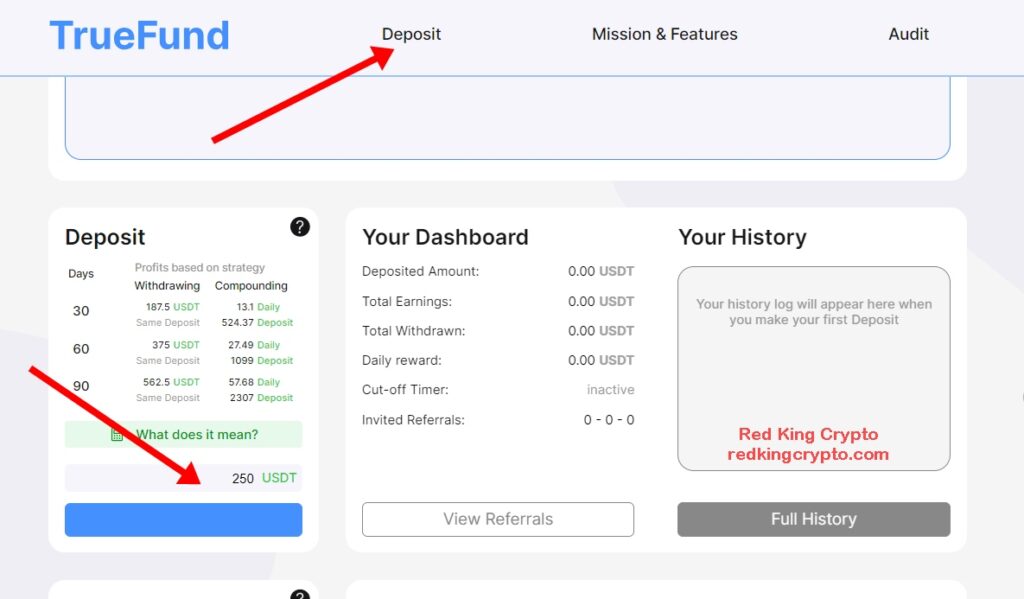 You must note that there is a Cut-off timer feature. This timer will be shown in your Dashboard after you make your first Deposit. It requires you to Withdraw or Compound your Daily Reward every 72 hours. If you don't do this your Daily Reward will stop accumulating
This feature stimulates the users to spend their earnings regularly, stops 'whales' from accumulating large amounts and, therefore, prevents rapid withdrawals that could hit the project balance too hard.
Claim Your Piece of the TrueFund Pie
With its innovative features, transparent smart contract, and commitment to decentralization, TrueFund has done a good job with its second iteration.
Stay tuned to Red King Crypto for more insights into the ever-evolving world of crypto and DeFi. Remember, the defi world is risky, research everything and only use risk capital.
Frequently Asked Questions (FAQs)
1. What is TrueFund, and how does it work?
TrueFund is a smart-contract-based ROI DApp on the Binance Smart Chain (BSC). It allows users to earn a fixed 2.5% daily reward on their investments in Tether (USDT). Your initial investment gradually returns to you, and you continue making profits as well.
2. Can anyone join and invest in TrueFund?
Yes, TrueFund is open to everyone, but users must be at least 18 years old to participate.
3. Is there a minimum investment requirement?
Yes, the minimum investment is just 1 USDT, making it accessible to a wide range of investors.
4. How does the referral system work?
TrueFund offers a 3-level referral system, allowing users to earn referral rewards of 3% / 2% / 1% of their referral's deposit amount.
5. What is the Lottery feature, and how can I participate?
The Lottery is a chance to win prizes and also acts as a source of external revenue for the project. Users can buy tickets to participate, and the more tickets you own, the higher your chances of winning.
6. How is the stability of TrueFund maintained?
TrueFund employs several mechanisms for stability, including a fixed 2.5% daily reward, a 72-hour Cut-Off timer as anti-whale protection, and an automated insurance mechanism that compensates rapid withdrawals.
7. Is the TrueFund smart contract audited for security?
Yes, the TrueFund smart contract has undergone a comprehensive security audit to ensure safety and reliability. You can check the detailed analysis for additional peace of mind.
Additional Things to Note:
You can join my Telegram group here or connect with me on Twitter here or follow me on YouTube here.
Follow me on Medium if you want to read more about cryptocurrency, passive income, play to earn games and yield farming.
I'm not a financial advisor. This is not a financial advice, whatever you read in my articles are strictly for educational purposes.
This article contains affiliate links.
These defi projects are all high risk and high reward, only use risk capital and be careful.
This has been a sponsored post.
Disclaimer: This is not financial advice, the information in this article is for educational purposes only. Never invest what you can't afford to lose. I disclaim any liability or loss incurred by any person who acts on the information, ideas, or strategies discussed in my articles. Do Your Own Research.
Don't have Metamask? Here's how to set it up
The first thing you want to do is set up a Metamask wallet (if you haven't done so already). Just open a Chrome or Brave browser and go to metamask.io and click add Chrome extension.
Then you need to add the Binance Smart Chain to your Metamask Wallet.
Click Ethereum in your wallet, then scroll down to Add Network.
Click that and add the following details:
Network Name: Smart Chain
New RPC URL: https://bsc-dataseed.binance.org/
ChainID: 56
Symbol: BNB
Block Explorer URL: https://bscscan.com