Automated Insurance mechanism for the investors' safety.
In the fast-paced world of decentralized finance (DeFi), TrueFund is a ROI dapp that empowers users with flexibility and control over their investment strategies.
With a stable daily payout of 1.5% ROI, TrueFund presents an enticing opportunity for investors seeking consistent returns. What sets TrueFund apart from other ROI miners is its commitment to user autonomy. Unlike many platforms that impose rigid strategies, TrueFund allows individuals to determine their own path, offering the freedom to either compound or claim daily rewards as they see fit. This liberating approach gives users the ability to customize their investment journey without the pressure to conform.
Also, TrueFund presents the "Emergency Withdraw" feature which not only provides an instant exit option. Whether you choose to withdraw or compound, TrueFund ensures a seamless experience by swiftly delivering daily rewards directly to your wallet while safeguarding the stability of your deposited amount.
This project is not yet live and will only be launching on 27 May 2023 at 2pm UTC.
Features in a Nutshell
Stable Financial Model: fixed 1.5% daily reward and Cut-off timer mechanism make the Project behavior predictable and easy to calculate
Automated Insurance: a special standalone contract with its own balance. It automatically balances the Project by compensating rapid withdrawals and providing healthy growth
Airdrops: The team will occasionally create airdrops that every user can claim. The more your Deposited Amount – the more your Investor Share – the more reward you get!
Emergency Withdraw: any moment you can unstake your Deposited Amount and receive 65% of its value to your wallet. This function automatically creates an extra Airdrop for other users.
How to Get Started
Connect to the Binance Smart Chain (if you don't know how to do this, scroll to the bottom of the article for a guide).
2. Make sure you have USDT in your wallet for the investment and a small amount of BNB for gas fees.
3. Go to the website and connect your wallet.
4. Click the deposit button in the top left.
5. Enter the amount you'd like to invest and confirm in your wallet.
Here are some scenarios if you invest $1000 into the platform…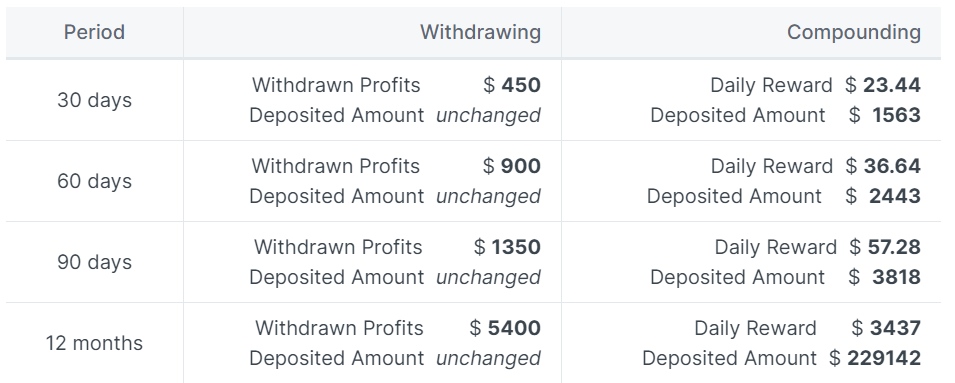 The Strategy
Like most ROI miners you have the option to compound or claim your daily rewards. Unlike most miners they give you the freedom to choose your own path and don't pressurize you to choose a particular strategy.
Withdrawing simply sends your Daily Reward directly to the wallet. Deposited Amount does not change, Daily Reward stays fixed.
Compounding consumes your Daily Reward to increase the current Deposited Amount. Therefore, your Daily Reward grows and you start earning more.
At any stage you can use the "Emergency Withdraw" function to unstake your Deposited Amount and receive 65% of its value to your wallet.
Fees and Key Figures
Currency: Tether (USDT at Binance Smart Chain)
Minimal investment is 1 USDT
Daily Reward 1.5%
Deposit Fee:  10%
Compound Fee:  2.5%
Unstake function: get 65% of your Deposited Amount any time
24-hour Cut-Off timer as an Anti-Whale protection
No time locks: you start earning immediately, you can unstake any time
No plan limitations: deposit once and keep earning as long as you wish
Audit
An audit for the project has been completed by Haze Crypto. You can view the entire audit here. The conclusion of the audit was as follows:
"TRUEFUND Smart-Contract is safe for use in the Binance Smart Chain main network. The TRUEFUND Smart-Contract found no vulnerabilities, backdoors, or scam scripts."
Team
This is the same team that brought you BUSDXFarmer. And if you didn't ROI in that platform they are offering refunds here.
Roadmap
Have a look at TrueFund's Roadmap and plans here:

As always this is not financial advice, just findings based on my research. Remember to only use risk capital.
Additional Things to Note:
You can join my Telegram group here or connect with me on Twitter here or follow me on YouTube here.
Follow me on Medium if you want to read more about cryptocurrency, passive income, play to earn games and yield farming.
I'm not a financial advisor. This is not a financial advice, whatever you read in my articles are strictly for educational purposes.
These defi projects are all high risk and high reward, only use risk capital and be careful.
This has been a sponsored post.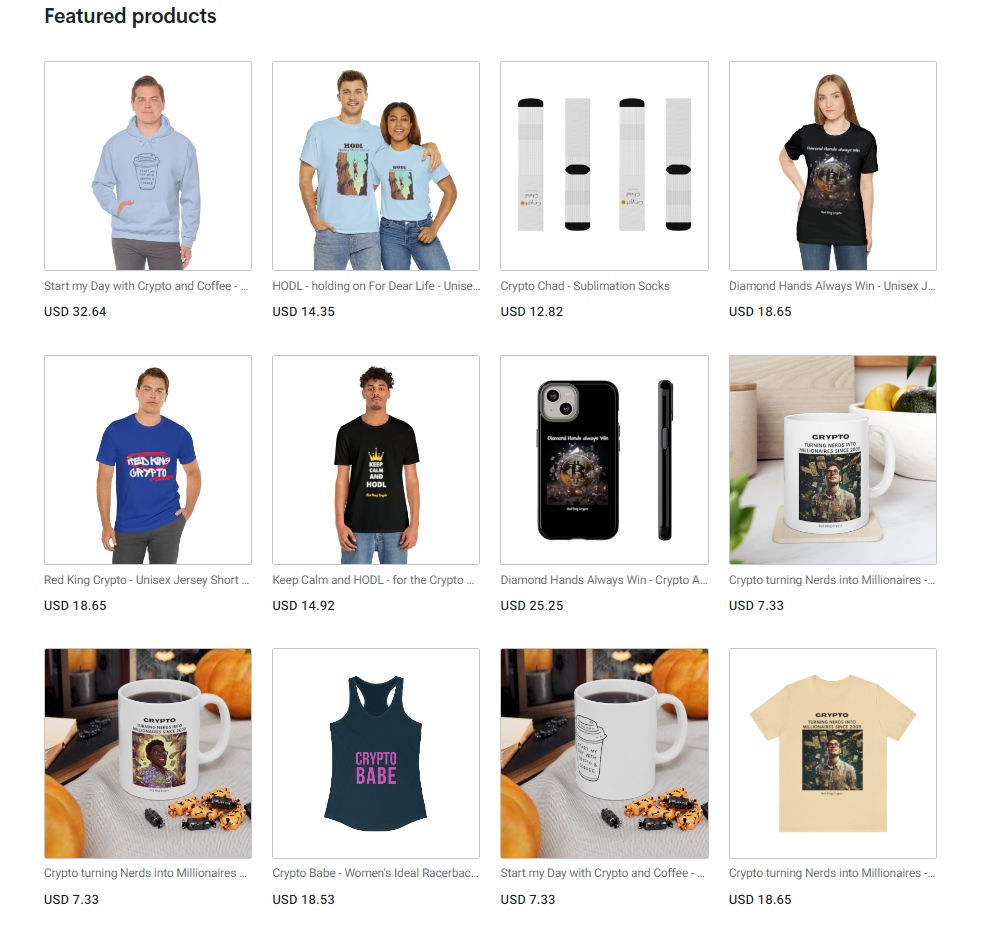 Disclaimer: This is not financial advice, the information in this article is for educational purposes only. Never invest what you can't afford to lose. I disclaim any liability or loss incurred by any person who acts on the information, ideas, or strategies discussed in my articles. Do Your Own Research.
Don't have Metamask? Here's how to set it up
The first thing you want to do is set up a Metamask wallet (if you haven't done so already). Just open a Chrome or Brave browser and go to metamask.io and click add Chrome extension.
Then you need to add the Binance Smart Chain to your Metamask Wallet.
Click Ethereum in your wallet, then scroll down to Add Network.
Click that and add the following details:
Network Name: Smart Chain
New RPC URL: https://bsc-dataseed.binance.org/
ChainID: 56
Symbol: BNB
Block Explorer URL: https://bscscan.com